Description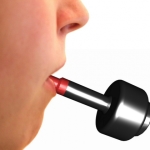 LipStick enables you to move the mouse cursor around with slight lip movements. Take the red tip of the LipStick in your mouth and push it gently to the direction you want the mouse cursor to move. You don't need to move your head at all. The LipStick can be set very sensitive. Only 10g of force is enough to move the mouse. For the left click just lift your top lip and for the right click the bottom lip. That's it. LipStick is very stable and with a little bit of practice you can get the mouse cursor on the desired spot fast and easy.
LipStick can also be manipulated by hand. It works if you take the red tip between your thumb and forefinger. Because no sip and puff switch is required, you can click by lifting your fingers. No external switch is needed. LipStick can easily be used by people with muscle dystrophy.
Use LipStick to control your Android smartphone or tablet.
Some of the advantages:
Precise and easy to handle.
No head control required.
No moving parts. No maintenance required.
Very hygienic. No sip and puff switch.
Closed case. Can be cleaned easily.
Compatible with Windows, Mac and Android.