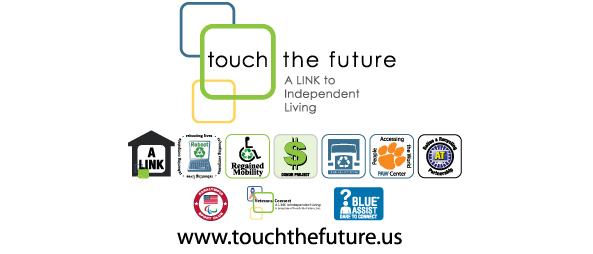 Life Planning Services
Touch the Future, Inc. is A LINK to independence as we Touch the Future of lives each day. Life Planning is A LINK to the future for individuals with disabilities ensuring that a plan is in place to help meet the specific needs and goals of each individual. Touch the Future offers Life Planning Services provided by SC DDSN Certified Life Planners utilizing Person Centered Approach. Contact us to schedule your Life Planning appointment today.
What is a Life Planner and What is Their Role?
The role of a Life Planner is to help identify a person's life expectations, set goals, and develop a plan of action to achieve those goals. All Life Planners must undergo specialized training, demonstrate competency in a variety of skills and meet other DDSN qualifications to be placed on an approved list of providers. Individuals and/or family members choose a Life Planner from a list of options and there is no cost to the individual or family for the service.
They navigate the planning meeting always keeping everyone and everything focused on the person's wants, needs, and desires for his/her future. That is why it is called a Person Centered approach.
Using various tools, the life planner enables individuals and families to tell their story, what they want for their lives or future. The life planner encourages the Circle of Support or team to brainstorm/think about ways to support the person in getting the desired life or future and to come up with creative and sometimes non-traditional ways of doing things or taking action.
The life planner may also act as a mediator to get all the information from all members of the Circle or help in resolving any problems or issues which may arise.
During a Person-Centered planning meeting, the life planner records the information given to them by the Circle. This is normally done on large sheets of paper with color and pictures. This allows everyone, no matter the disability or educational level, to stay on the "same page" as the person.
What is Person-Centered Planning?
In Person-Centered Planning, the gifts and positive abilities instead of the weaknesses and inabilities of the individual are the focus.
Person-Centered Planning focuses on developing connections within the community to provide supports for the person.
Services and supports are developed for the person based on their needs, wants, and desires instead of "fitting" the person into current services and programs.
Supports developed during Person-Centered Planning help the person to:
Set their personal goals
•          Meet new people
•          Try new things
•          Contribute to and be supported by their community
•          Have who and what is important to them in their everyday life
•          Stay healthy and safe
Person-Centered Planning helps everyone:
Look at an individual in a different way. The person is seen first, not the disability.
•          Increase opportunities for community participation and inclusion
•          Recognizes the person's desires, interests, wants, an d dreams
•          Through team effort, develop a plan to support the person in the life they desire to live
•          Gives people more control and choice in their lives in regard to the services and supports they want and need
Neile Manning CDMS, CCM
Certified Life Planner
Renee Maynes, RN
Certified Life Planner

If you are interested in joining the Touch the Future Life Planners Team, please contact us at info@touchthefuture.us.  Thank you.